An affordable solution for school mental wellness
We believe every student should have access to qualified mental health support within their home school district, leading to improved educational outcomes for students and lower costs for school districts.
Thrive has developed a unique and affordable solution to help schools support student mental health and build a culture that accepts and supports mental wellness.
Our clinical expertise combined with our experience providing mental health services in schools make Thrive uniquely qualified to teach your staff how to improve outcomes for your students.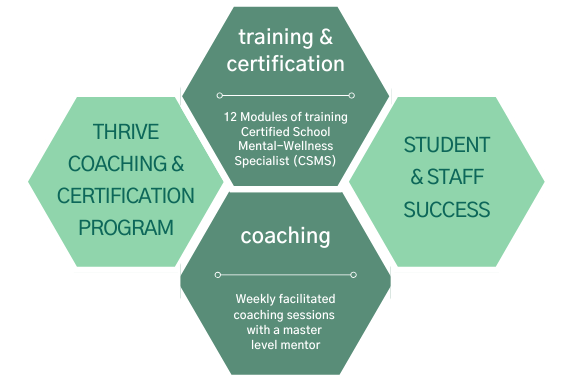 Mental health training & certification for school staff
Our training and certification program teaches your school psychologists, social workers, teachers, and other staff to help students manage mental health issues that interfere with learning. The training program consists of a series of online modules and assessments developed by clinical experts.
Upon completion, participants become a Certified School Mental-Wellness Specialist. Additionally, the school district is eligible to become TAG (Thrive Alliance Group) Accredited once a percentage of staff at the school engage/participate in the coaching and certification.
Ongoing coaching with clinical experts
Our model also provides regular, one-on-one therapeutic consultations with a clinical expert for ongoing guidance and advice. Even after your staff members earn the certification, they are never left without an expert resource to turn to with questions.
Every member of the school community benefits
Students get the help they need to succeed in school and secure their future.

Parents get qualified support for their children from district staff they already know.

Child study team members gain the skills and the confidence to effectively help their students who are struggling with mental health issues, and the job satisfaction that comes from making a real difference in their lives.

Teachers get qualified in-school mental health counselors available to assist them with students and issues in their classrooms.

Administrators know they are doing everything they can to prevent school tragedies and provide help that supports the entire student population.

School districts see improved academic performance, increased attendance, reduced disciplinary incidents. And they can reduce the heavy cost of paying for out-of-district placement for many students with behavioral and mental health issues.
"Working with John Reilly (coaching) has been a pleasure. His guidance and expertise has further assisted in the growth of my skills and thought process. John does a good job encouraging open and honest dialogue all while validating you along the way."
ERIC SALVADOR, SCHOOL SOCIAL WORKER, DUNELLEN SCHOOL DISTRICT