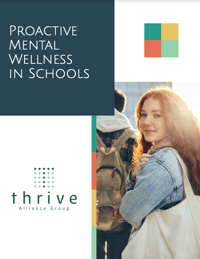 It's no secret that the student mental health crisis is growing. Mental health issues are preventing students from learning, hurting school performance, causing teacher burnout, and leading to tragedies such as suicides and school shootings. It's happening everywhere and across all student populations. And experts predict the problem will escalate even more dramatically due to trauma and isolation associated with the pandemic.
School leaders want to know how they can and should address student mental health. In this paper, you'll learn:
7 reasons why schools can't afford to ignore student mental health issues
What a comprehensive, school-based intervention program looks like
How to begin implementing a program to improve mental wellness
Strategies for funding the program & measuring outcomes
Get prepared to implement a proactive mental wellness program at your school. Download our informative guide now.
Plus, get access to our podcast, Conversations About Student Mental Health, where we talk with school administrators, mental health professionals, and parents about questions, concerns, and best practices.