You really don't have to sacrifice other programs to provide support for student mental health.
In this guide, we'll show you how you can take advantage of some funding sources you're already familiar with to pay for student mental health programs. And we'll share some funding sources you may not know about.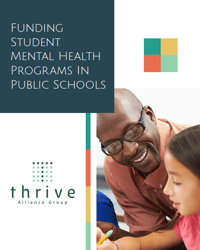 Get details on:
State and Federal funding
The process for getting title grants
Where to get additional funding guidance
Complete the form to get detailed information on funding sources.
Learn how you can take advantage of each funding source for school-based mental health support and intervention programs.
Plus, get access to our podcast, Conversations About Student Mental Health, where we talk with school administrators, mental health professionals, and parents about questions, concerns, and best practices.